Most online casinos offer free spins, either as a daily bonus or as part of a welcome/promotional package. Although these incentives can be very alluring, free spins are often tied to rules and regulations that can be misleading or misunderstood. To make the most of free spins, you need to understand how they work and how to use them to your advantage. To aid you, we have created the following free spins guide.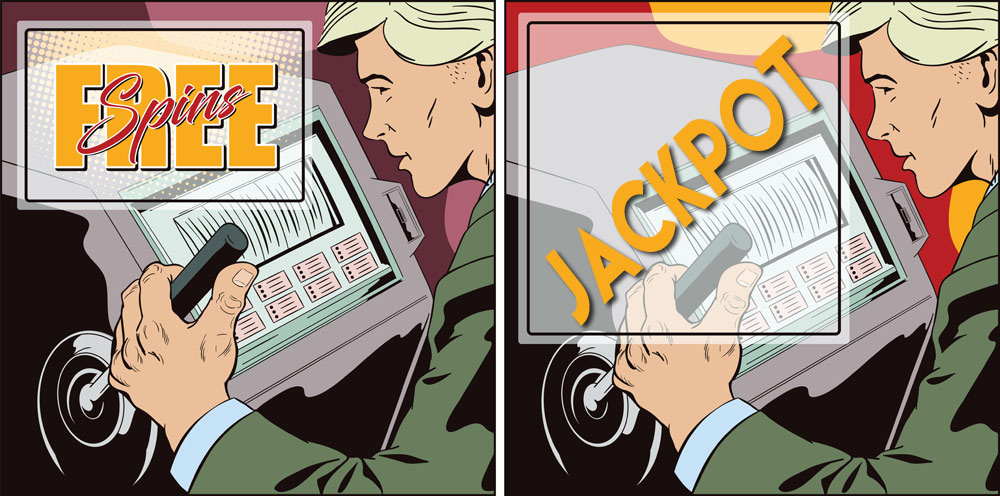 Understanding Free Spins
Free spins are exactly as they sound – they allow you to spin slots online without paying. When you first sign up for an online casino, you usually receive a bonus of between 5-10 spins. Addition free slots are usually made available for each deposit you make (depending on the site). These spins usually expire within a designated time period. You should always read the terms and conditions as it will detail what kind of bonus you are playing and how to withdraw your earnings. Many casinos footnote their spins with terms such as a required amount of cash that needs to be deposited and played before using a bonus. Here we detail the most likely scenarios.
No-Deposit Freebies
When a casino offers a no-deposit spin, these are credited to you upon registration. These spins are often tethered to a specific slots game. Being part of a welcome package, these spins often come with wagering requirements. Wagering requirements means that you have to play through your winnings before you can withdraw them. For instance, if you win £10 from a free spin and the waging requirement is 30x, you need to use that £10 until you've played through £300. The lower the wagering requirement, the higher the probability of gaining free money.
Freebies On Deposit
Some casinos expand their bonuses to each deposit (up to say the fifth). If you're offered 100 freebies upon registration, often only 10 or so come without the need for a deposit. With each consecutive deposit you make, you'll unlock the next set of freebies. These spins will also come with wagering requirements and will most likely expire if unused.
Bonus Promotions
Promotions are another potential means of gaining freebies. These are often available to all player types. Often, casinos offer weekly or monthly (even daily) spin bonuses to be used on a variety of slots. They can be awarded just for visiting a casino within a time period, or they can be exclusive promotions offered to long-standing players via promotional codes. In other cases, they are awarded following new deposits and are dependent on the amount deposited. Bonus promotions are usually specific to a day or period and can be found under a site's "current promotions" page. If a casino offers a new game, these often also come with their own new promotions.
Bonus Rounds
Slot machines have in-game bonuses which are exclusive to the game you are playing. If you reach a certain limit or roll, bonuses are made available. These will often be described as such in-game (e.g. "free spin") and are not usually restricted as the above free spins casino bonus is, but they have to be used within that game there and then.
Making the Most Out of Your Free Spins
Now that you understand the conditions and types of free spins, it is time to make the most of them. Crucially, in order to keep the winnings you must meet the wagering requirements outlined earlier. Taking advantage of these spins correctly gives you the opportunity to win money quickly. To make the most of these bonuses, shop and play around in multiple casinos until you find one that you like, taking advantage of each welcome promotion. In particular, look out for casinos where the bonus winning are absent of wagering requirements. These are rare, but they can be found – just make sure the site is legit.
Top Tips
Know the terms and conditions: If there are wagering requirements, get your head around what you need to win to withdraw. Also make sure that the website has verifiable reviews and is not a scam.
Shop around: Check both websites your are familiar with and those you are not for promotions. Spins are nearly unanimously offered by all casinos as a welcome incentive. Pay attention to new seasonal promotions and look around for promotional codes.
Pay attention to the time-frame: Spins elapse and expire over time. Avoid disappointment by noting the period you have to use them.
With these tips in mind it is important that you do not rely on promotions as a sole means of playing. Think of them as a fun incentive for new slots games. This is because most free promotions have wagering requirements, otherwise casinos would not make money. With that said, free spins in online casinos are still fantastic ways to boost play.